ACO White Paper - Guide for trench drain selection
From Engineers for Engineers! ACO has authored a new White Paper giving important details about channels' behaviour in practice. Find out what factors into trench drain selection and which new ACO tool can help you specify the right solution.
Selecting the right grated trench drain is highly important and sounds easier than it is. What happens if you specify the right sized channel but chose the wrong grate? Will the runoff bypass your drain? Will the specification have failed its purpose? Once installed, it will be excessively expensive to replace the channel and consequently safety hazards like flooding and ponding will occur in places where it is essential to remove all surface water. Imagine, footpaths and streets or retirement facilities, schools and hospitals…
To prevent this, Specifiers study the hydraulics in detail before selecting a solution. The problem here is that conventional formulae often cannot resemble real-condition behaviour, leading to costly oversized channels, or undersized channels, which cause flooding.
To define grate hydraulics, it is not enough to rely on rainfall runoff charts. Furthermore, the characteristics of the grate in relation to the pavement geometry and the direction of flow need to be considered.
In a way, you will always need to apply theoretical data to practical situations but the calculation used should be the output of empirical data from full-scale laboratory testing. Providing this, ACO commissioned the Water Research Laboratory UNSW to test grate hydraulics under varying conditions, resulting in solid data for specification.
Another fact is that the common used open channel formulae for trench hydraulics is based on the assumption that the channel flow is uniform, which research has shown is not the case. Therefore, ACO uses a differential equation which has been modified to observe a non-uniform flow, reflecting real-life behaviour.
However, the right choice of system is further affected by the placement, slope, shape and material of the trench drain. Channels like the ACO KlassikDrain are made from Polymer Concrete and have a beneficial V-Shape profile, providing ideal hydraulic characteristics. This also applies for many other ACO trench drain products.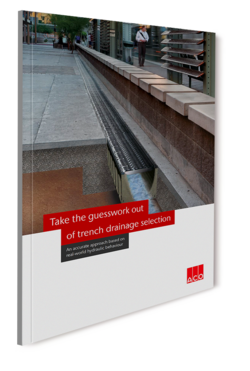 Finally taking into account all of these factors, ACO has launched an online tool. "HYDROlite" is a free, public software based on channel and grate hydraulics to assist engineers and designers selecting the right system. It is simple to use and accessible 24/7 to suit your individual workflow. Additionally, the program offers the possibility to engage with ACO's Technical Engineers for further help.
Download the full White Paper and access the free software linked at our askACO page here. With both at hand, you will always choose the right system for your project!
ACO Australia has developed the White Paper in association with Engineers Australia. It is based on two decades of research & development in partnership with universities in Australia and overseas. Credits go to ACO Australia.
02.03.2022